And for those who don't have facebook, click here for the photos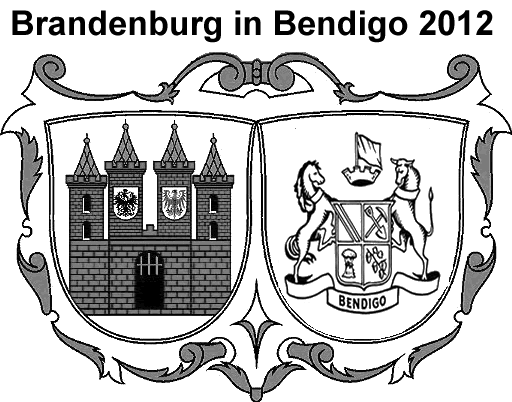 A note on instrumentation: If you play flute, violin, viola, cello or double bass, grab whichever part matches. At this stage, violinists should stick with the "ordinary" violin part unless you're approx grade 6 or above, in which case feel free to grab the "solo" part, which will have more than one violinist playing it! The "solo" flute part will also have more than one flautist. If you play another instrument not mentioned so far, have a look at a part that you think might suit - if you can play the double bass part on a Great Bass Crumhorn, I'm happy for you to go ahead and do exactly that! We also have parts for clarinet to play the transposed viola line.
Music Parts Downloads. Right-click and select "Save target as" to download to your computer. All scores are our own editions, and we make these freely available to musicians participating in the "Brandenberg in Bendigo 2012" event.
*Not sure we'll haved enough players for the Sinfonia, but feel free to download and play for your own enjoyment - B in B.
The Brandenbendigonians are:
| | | | | | | |
| --- | --- | --- | --- | --- | --- | --- |
| Player | Instrument/part | Tues 7th Aug 7:30pm | Sat 18th Aug 1pm | Sat 8th Sept 1pm | Tues 11th Sept 7:30pm | Concert |
| Marj Sutton | violin | Y | Y | Y | Y | Y |
| Chris Creely | violin | Y | Y | ? | Y | Y |
| Frances Thompson | violin | Y | Y | Y | Y | Y |
| Bec Ray | Violin | | | | Y | Y |
| Sean Woodley | violin | Y | N | N | Y | Y |
| Alex Dixon | violin | N | N | N | N | ? |
| Jaynee Russell-Clarke | violin | Y | Y | Y | Y | Y |
| Ellis Ormerod | violin | N | Y | Y | Y | Y |
| Joan Ledwich | violin | Y | Y | Y | Y | Y |
| Jessica Ledwich | violin | N | N | Y | Y | Y |
| Emma Robertson | violin | | | Y | Y | Y |
| Elfi Willman | violin | Y | N | ? | Y | Y |
| Alf Thompson | violin | Y | Y | Y | Y | Y |
| Thea Morton | violin | Y | N | Y | Y | Y |
| Nicole Pethica | violin | Y | Y | Y | Y | Y |
| John Gault | viola | Y | Y | Y | Y | Y |
| Alfred Artingstall | viola | Y | Y | Y | Y | Y |
| Krista Phillips | clarinet (for viola part) | | | | Y | Y |
| Beth Pennington | 'cello | Y | N | N | Y | Y |
| Toni Meehan | 'cello | N | N | Y | Y | Y |
| Travis Perera | 'cello | Y | Y | Y | Y | Y |
| Cally Bartlett | 'cello/violin | | | | Y | Y |
| Dianne Chapman | 'cello | | Y | Y | Y | Y |
| Sheri Thomas | 'cello | N | Y | Y | Y | Y |
| Bob Long | 'cello | Y | N | Y | N | Y |
| Laura Myles | 'cello | N | Y | Y | Y | Y |
| Jessica White | 'cello | N | N | | | |
| Andrew Apostolou | double bass | Y | Y | | | Y |
| Graeme Balaam | double bass | Y | N | Y | Y | Y |
| Ning Hall | double bass | | | | Y | ? |
| Jo Russell-Clarke | bassoon (for cello part) | N | N | Y | Y | Y |
| Sally Pell | Flute | N | N | Y | Y | Y |
| Effie Hamilton | Flute | Y | N | N | Y | Y |
| Nigel McGuckian | Flute | N | N | N | Y | N |
| Heather Parsons | Recorder (for transposed flute part) | N | N | Y | N | Y |
| Alison Dullard | keyboard/clarinet | Y | Y | Y | Y | Y |
| Judith Russell-Clarke | keyboard | N | N | Y | Y | Y |
| Judy Oliver | keyboard | Y | Y | Y | Y | Y |
| | | | | | | |
Other works (for 2nd half):
| | | |
| --- | --- | --- |
| Player Contact | Group | Work |
| Jaynee | All strings | Purcell Chacony |
| Beth Pennington | | Bachianas Brasilieras |
| Jaynee | Castlemaine Health Players | Pachelbel Canon (& Bach Jesu Joy) |
| Effie | Flute | Bach Sonata E Major BWV 1035 |
| | | |